Simplified Ketogenic Diet
WHAT IS A KETOGENIC DIET?
A Ketogenic diet burns fat as your main source of fuel for your body. This fat can come from the consumption of fat from foods or fats from within your own body. When carbohydrate consumption is drastically reduced, the body increases the production of energy from fats rather than carbohydrates. This fat burning state is called "Nutritional Ketosis." For many people, staying under a net carb limit of 30 grams ensures nutritional ketosis. This state of nutritonal Ketosis has been used therapeutically in treating or managing several chronic conditions such as seizures and Type 2 Diabetes while is being used and researched as an adjunct therapy for various cancers and advanced diseases. Additionally, it has also been used as a diet to help with weight loss and body recomposition. Before begining this diet, if you have a chronic condition, we higly recommend seeking a low-carb friendly physician or doctor to help you make this transition.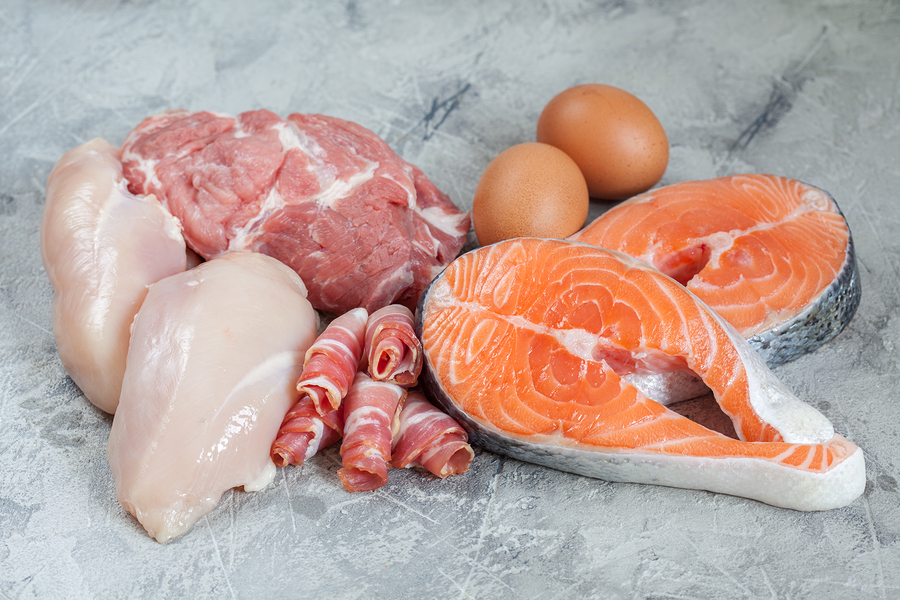 PROTEINS
They form the building blocks of the body. During the day, body takes wear and tear and needs to be repaired. Proteins help with this process. They can come from plant and animal sources where plant protein are incomplete while animal proteins are complete sources of essential amino acids.
Sources of proteins include meat cuts, poultry, fish and low/zero carb protein shakes.
Proteins: 3-4 Calories Per Gram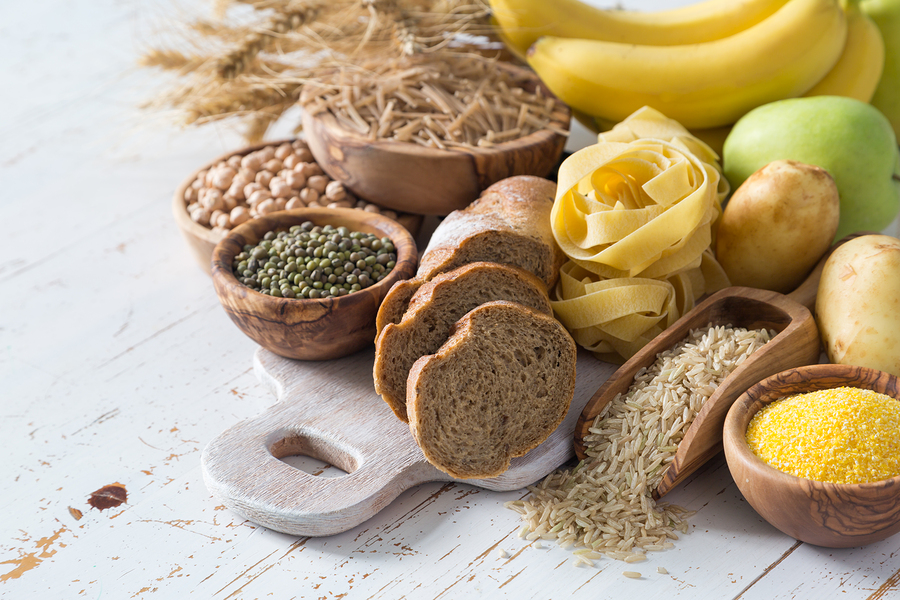 CARBOHYDRATES
Main sources of carbohydrates are sugars, starches, grains, vegetables and fruits but they also also exist in smaller quantities in nuts. Trace amounts can be found in animal products as well.
They can be potentially synthesized by the body to be used as a fuel source but aren't neccessary. The body produces enough glucose for itself through an ongoing demand driven process called ' Gluconeogenesis'.
Carbs: 4 Calories Per Gram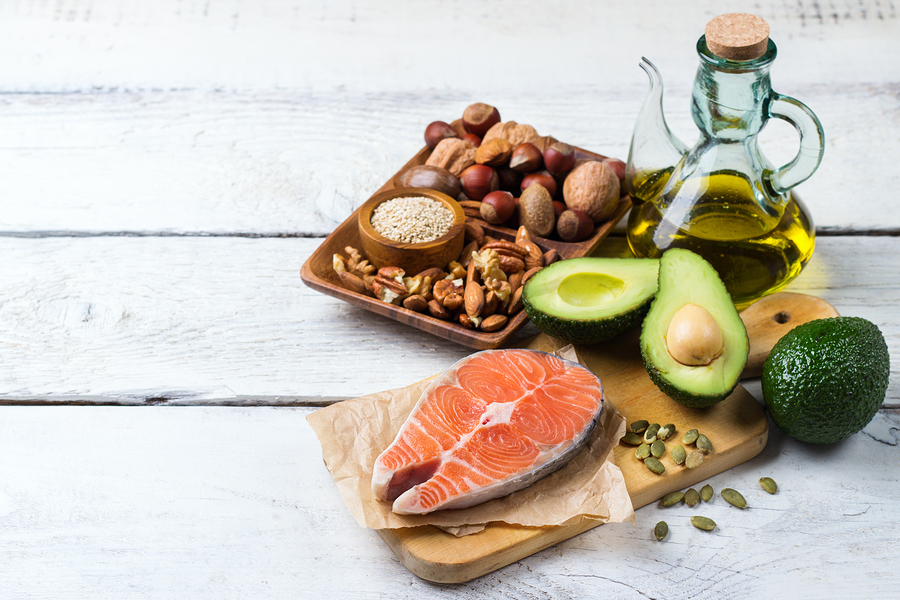 FATS
Fats are another source of fuel for the body and are prioritized to be burnt when consumption of carbohydrates is restricted or totally removed. These fats are converted into Ketone bodies which are further used to fuel the body.
Fats are primarily found in animal products, nuts and seeds. They can be further extracted to make butters, ghee, tallow and various oils.
Fats: 9 Calories Per Gram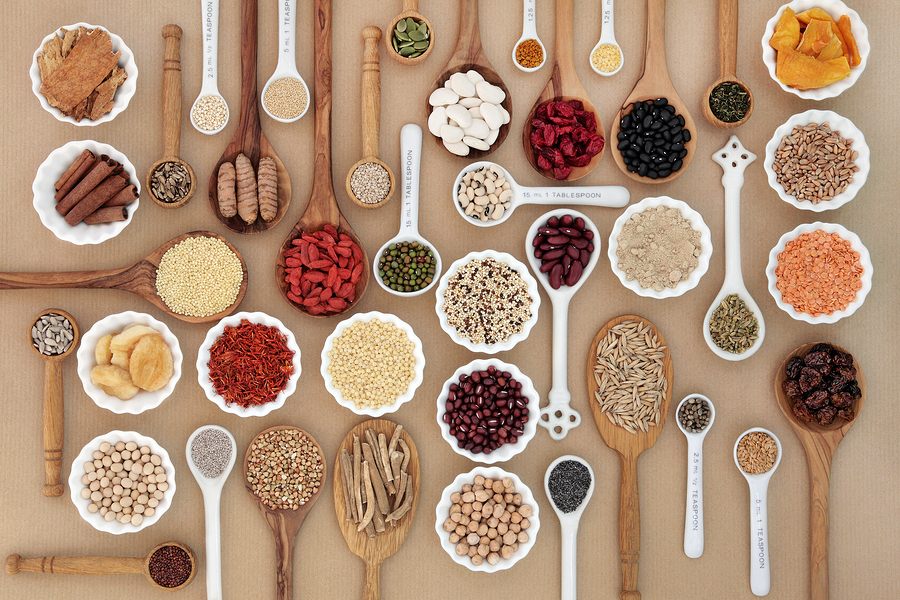 MICRONUTRIENTS
These are minerals and vitamins that are present within the food which may play an important role in ensuring optimal health of the body. They can be found in nutritionally dense foods such as leafy green vegetables, meats, nuts and certain fruits
It's important to define the goals prior to adapting the Ketogenic Diet. Are you looking to combat or manage a specific condition or would like to lose weight and gain muscle? Often times there could be a potential overlap between the two goals but it's important to chase results, not ketones unless in rare circumstances chasing ketones may yield results in combating specific chronic diseases. Ketone and various biomarker measurements are not necessary unless your low-carb physician specifically recommends it. We will be utilizing a simple approach here.
---

THERAPEUTIC KETOGENIC DIET
A therapeutic ketogenic diet is formulaized for targeted therapies. They rely mostly on percentages of fats, proteins and carbs and aimed to combat specific chronic conditions.
Example: 80% fat, 15% Protein, 5% Carbohydrates
---
SIMPLE KETO DIET (RECOMMENDED)
A simplified approach is focused on consuming a diet that contains adequate protein, restriction of carbs and eating fat to satiety. For many people this has the side effect of fat loss without using any calculations or tracking.
---

ADVANCED KETO DIET
In some cases of long stalls during fat loss, for tweaking athletic performance or hitting certain sports-related goals, macronutrients are calculated using a macronutrient calculator to figure out exact calories needed to hit a certain goal. They work by either reducing, maintaining or increasing caloric intake. The diet may further be tweaked with supplementation for enhancments or modifications.
Example: 60 grams fat, 150 grams protein, 20 grams carbohydrates

1. REDUCE CARBS TO BURN FAT
Under 30 Grams Net Carbs Generally Works. Net Carbs = Total Carbs - Fiber

2. CONSUME ADEQUATE PROTEIN
Protein Heavy Foods Naturally Have Fats In Them and are High In Satiety

Consume Fat Till Your Body Lets You Know It's Done! No need to overdo it
FOOD PLATE TEMPLATES
Plates below give a very basic visualization of how to portion fats, proteins and carbohydrates. Simplicity is the key here. Eating to satiety normally works out great in most cases. Our food list below will allow a better gauge on foods to choose from in order to maintain nutritional ketosis.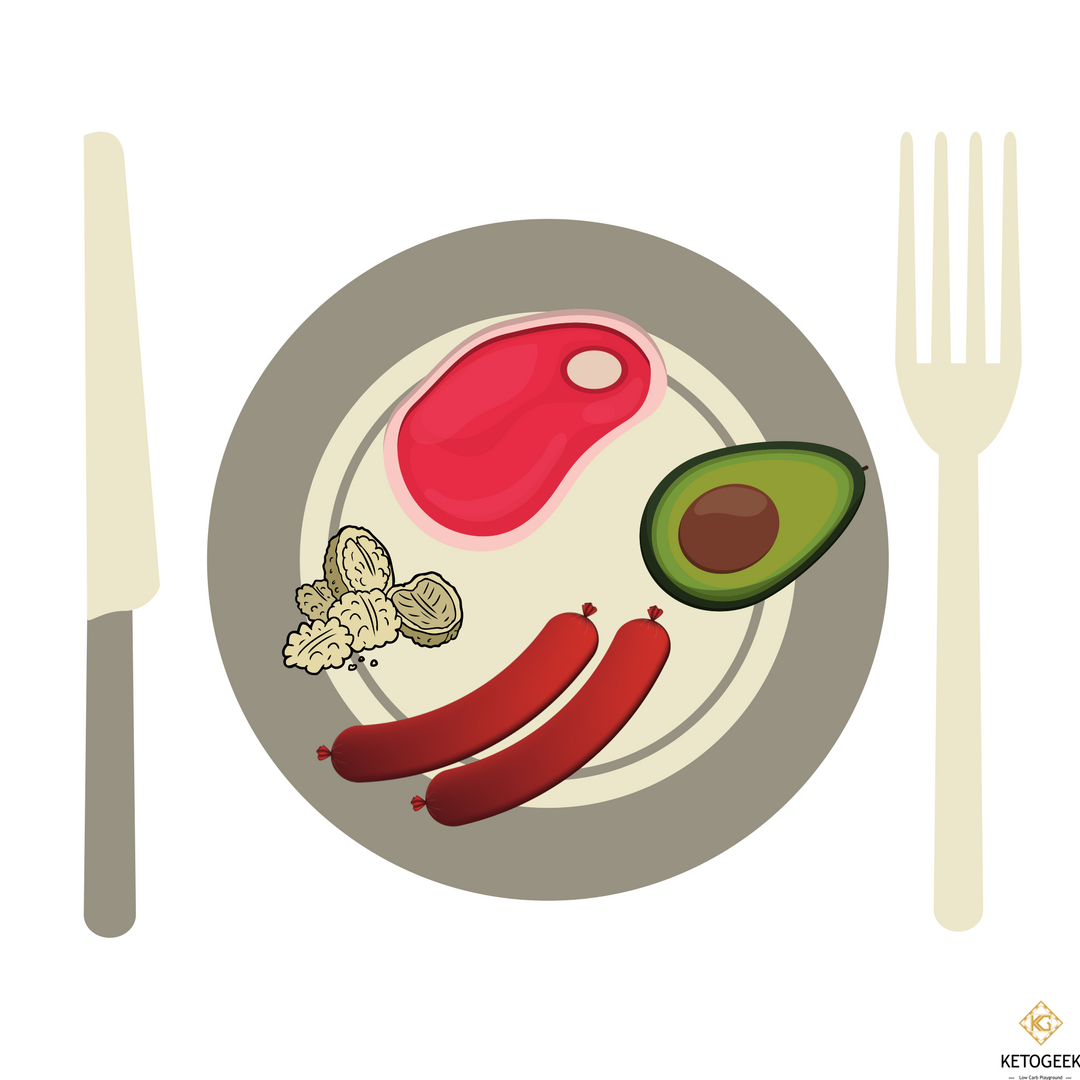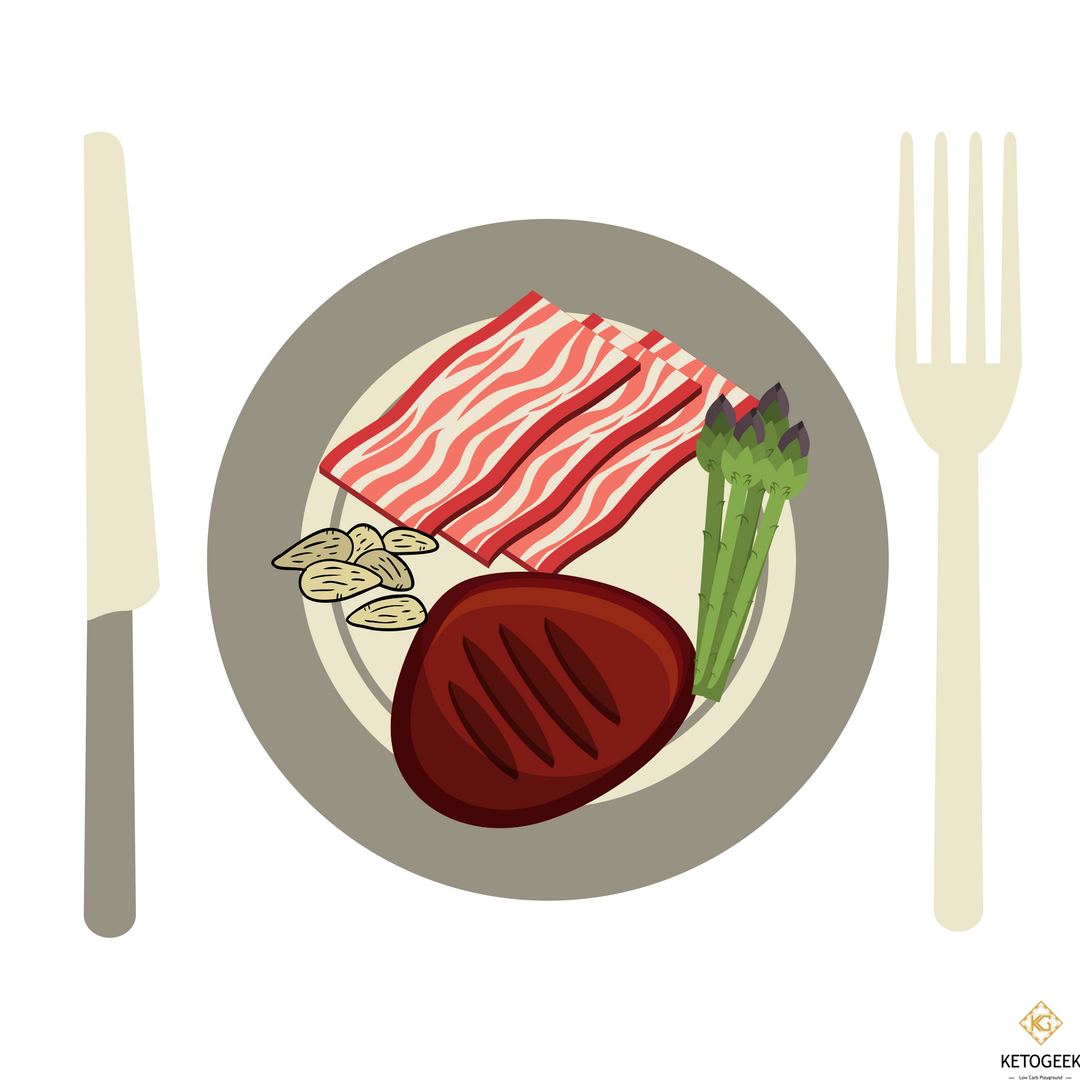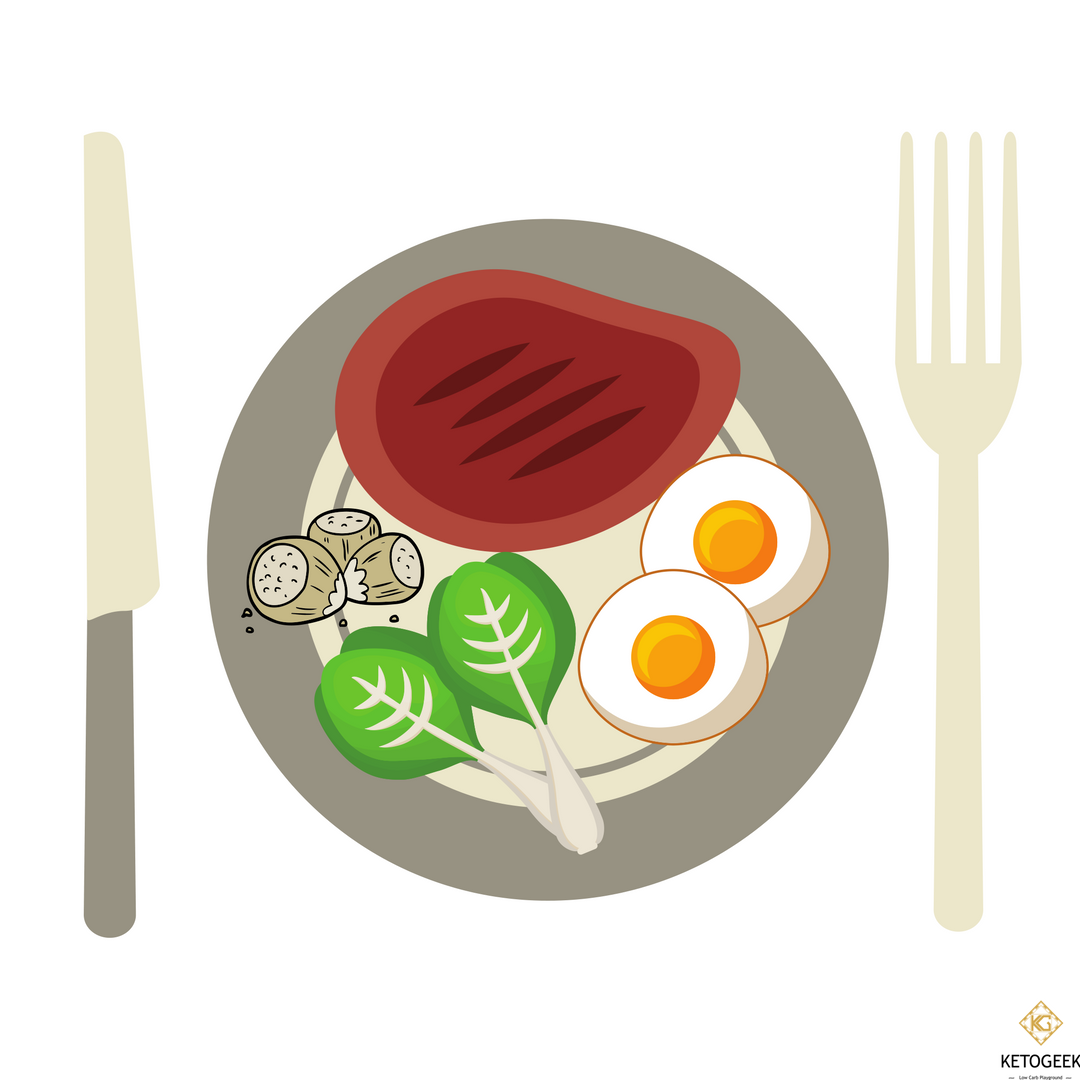 This is a basic food list to get you started along with the amount of fat content in each of them. Additional food items can be added depending on your location and budget. Sweeteners are included uderneath the 'Fruits & Veggies' section below.
* Not a complete source of essential amino acids
** Toxic to animals
*** Watch out for carb content in Veggies. Some of them may be low fat but high carb!
Following beverages are ok on a Ketogenic Diet. We strongly advocate against consumption of alcohol since the body prioritizes getting rid of alcohol before processing fats and carbs. Hence it's important to look at alcohol more as alcohol rather than it being healthy due to reduced carbohydrates and sugars in it. However, in certain social occasions, when not drinking alcohol will bring the ceiling crashing down, here's a guide:



Unsweetened Hot & Iced Tea















Grains
Eg. Wheat, Rice, Oats, Cornmeal, Barley, Cereal

Vegetable Oils
Eg. Soybean, Canola, Rapeseed, Corn, Sunflower, Safflower

Sugary Alcohol
Avoid All Alcohol In General Unless Necessary

Milk
Milk Contains Lactose Which Is A Sugar

Beers
Avoid All Alcohol in General Unless Necessary

Fruits
Avoid practically all fruits. Berries for rare occasions only.

Refined Carbs
Eg. Cakes, Pasta, Pizza, Oatmeal, Tortillas, Breads, Pie Crusts etc.

Sugar & Condiments
Eg. Sauces, Ketchup, Various forms of Sugars including Fructose

Starches
Eg. Peas, Corn, Potatoes, Beans, Yams

Dried Fruits
Eg. Apricots, Apples, Figs, Kiwis, Mangoes, Nectarines, Peaches, Pineapple, Pears

Hyper Palatable Foods
Pizza, Pancakes, Hot Dogs, Pastry, Candies, Ice-Creams.

Soda & Juices
They Contain High Fructose Corn Syrup or Sugars/Carbs
During the first week or two, most people get what is called the 'keto flu' which makes them feel lethargic, fatigued and have flu-like symptoms. This can be potentially remedied by increasing the electrolytes magnesium, potassium and sodium from various sources, including the ones below. During this time period, the body is switching from utilizing carbohydrates to fat as its primary source of fuel. You may also notice a drop in physical performance which is part of the entire "Keto Adaptation" Period. Most people notice a return to peak strength in 2-3 months.
Point to note though that certain foods below can provide a more than one electrolyte as a source. For example, bacon is a good source of sodium and potassium, nuts and cocoa are a good source for potassium and magnesium. You can also purchase supplements or make your own electrolyte drink using magnesium, potassium and sodium. The important point is to find a couple of sources of these electrolytes and add them to the daily routine. The simpler, the better. Also, our Chocolate Fudge Energy Pod contains copious amounts of cocoa and almonds which significantly contribute towards the daily electrolyte intake for potassium and magnesium. If unsure, you can check out nutrition data on specific foods on the Self Nutrition Data website

Generous Salting of Foods















1. Create a Keto Friendly Plate and Eat It. Keep total net carbs under 30 grams per day and ensure you have both fat and protein on your plate
2. If you feel fatigued, lethargic or drained, up your electrolytes through food or supplementation

3. Focus on protein and eat fat to satiety. No need to overdo on fat if you don't feel like eating it. Repeat Step 1 when hungry.
Simplicity is the key here with in the form of simpler foods with simple ingredients. We encourage people to focus more on life elements like trying new activities such as gym, yoga, crossfit, spending time with family, friends and nearby community, adding value to the people around and striving to become a human being. We think these elements are far more important than just diet alone. If we are making such a big change in one aspect of life, why not change other areas too? Also, when you change, you become a beacon of change for others and you lead others by inspiration. Now let's get started on this new way of life!
Also, Welcome to Ketogeek family! If you would like to support our work or wear our colors, you can buy our apparel or merchandise. Now, since you know the basics, we HIGHLY encourage you to subscribe to our Ketogeek newsletter below to stay updated on our new Ketogeek products, discounts, news and so much more. We are constantly striving to find the best and accurate information. After all, the success of a lifestyle change is higher when you join a community and we would love for you to be part of it. Bonus: We will send you our 10-Page "Keto Cheat Sheet" E-Book FREE along with our 10% Storewide Discount on Our Products if You Susbcribe: