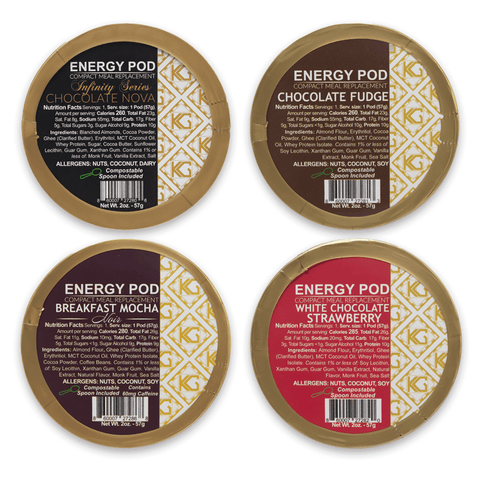 Artisan Essential Box
Pickup currently unavailable
The 8-pack Artisan Box contains a mixture of all of our core Energy Pod flavors. These can be a great gift for your loved ones or a great way to try out all of our flavors offered by us. Each box contains:
2x Chocolate Fudge Energy Pod
2x Chocolate Nova Energy Pod
2x Breakfast Mocha Noir Energy Pod
2x White Chocolate Strawberry Energy Pod
Customer Reviews
07/09/2022
Yolande F.

United States
Love these!
These are great for when I don't want to over eat but still want nutrition. Tastes great! Easy to carry and consume!!
05/29/2022
Jesse H.

United States
Love the energy pods!
They are delicious AND nutritious! The breakfast mocha noir is great with coffee in the morning for a quick get up and go snack. Also love the white chocolate strawberries cold for when I'm craving some sweets. No nasty sugar alcohol taste. Very well done
04/29/2022
Ezjra

United States
This pack is the way to go!
My initial experience was that the pods tasted very different than I expected them to. This is why I would definitely recommend getting the whole pack! You never know what flavor you are going to like best, and at what temperature setting. Having the flexibility to taste and try is crucial. Don't forget to freeze a few for a hot day!